What is the Ignition Interlock Device Program?
A night out on the town can turn into months of stress if you are charged with a DWI. In 2012, 28,418 motorists were arrested, averaging out to about 78 a day, according to the Minnesota Department of Public Safety (DPS). Getting a DWI is a costly experience—it hurts your bank account and revokes your driving privileges.
However, for some there are options to gain back your driving privileges sooner, including Minnesota's Ignition Interlock Device Program.
For first time offenders and all second time offenders, 21 years and older, you have a few options:
Simply not drive during the revocation period;
Wait 15 days and apply for a limited license that lets you drive to work, school, and treatment activities (only for first time offenders arrested with a blood alcohol concentration (BAC) under .16);
Participate in the Ignition Interlock Device Program under a restricted license with full driving or limited driving privileges, depending on the offense.
Contact a Minnesota DWI lawyer to see which options are available or the best for you.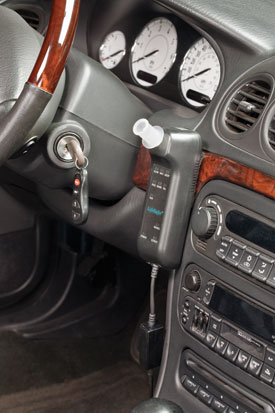 The Ignition Interlock Device Program began July 1, 2011. The device is installed near a vehicle's steering wheel and connected to the engine. In order to start the car, the driver must blow into a tube connected to the device. The device will prevent the vehicle from starting if it detects a certain alcohol concentration level after the driver blows into the tube.
In addition, there are several rolling tests the driver must take while the vehicle is running. To verify the user, the device takes pictures during every breath test. The device must be purchased from a certified vendor, and while the device and installation isn't cheap, there is a payment program available for those who may need it.
Good behavior does not alter the length of the program. Failing to comply to the rules of the Ignition Interlock Device Program will result in loss of driving privileges.
Note: For offenders with three or more DWIs in the last 10 year period, or drivers whose licenses are canceled and whose privileges are denied as "inimical to public safety" are required to participate in this program for three to six years to regain full driving privileges.
While most are eligible for the program, not everyone is accepted for a variety of reasons. To be considered, applicants must:
Have valid vehicle insurance and an Ignition Interlock Insurance Certification, which certifies that your insurance company will not cancel your coverage;
Have no other offenses that would inhibit getting a license;
Sign a Waiver of Rights (if driving privileges were revoked before July 1, 2011);
Purchase plates if their previous plates have been impounded;
Pay $680 reinstatement fee;
Pass the DWI knowledge test;
Sign the Ignition Interlock Agreement;
Apply for a new driver's license;
Purchase the Ignition Interlock device from a certified vendor;
Have it installed;
Wait for the okay to drive from the DMV;
Participate in regular monitoring of your device, where the information can be calibrated.
Having your driver's license revoked can be embarrassing and inconvenient. If you have any questions about your DWI arrest and charges, or they don't seem fair, contact Carolyn Agin Schmidt today.